In May 2017 Wrexham's Senedd yr Ifanc (Wrexham's young people's parliament) promoted posters from Gareth 'Alfie' Thomas who was recruiting for young people to join him to train for the biggest half marathon in the UK, the Cardiff half marathon. Those who joined would also be part of his TV program 'Alfie's Army 2017'. 7 young people from Wrexham decided to sign up to this challenge, but little did they know what they were letting themselves into!
In June they visited Cardiff to meet with Alfie and other young people who had signed up, they were given a training schedule, and Nutritional eating plan from James Thie the training coach. They then went on a 2 mile trial jog around Bute Park so James and Alfie could see their levels of fitness. This is where reality set in and some started to struggle as they didn't usually do much exercise.
Training had now had to begin. The Senedd yr Ifanc and Wrexham youth Service was supporting training sessions on a weekly basis and supporting the young people to attend sessions with run4wales and with Alfie and James in Cardiff. All 7 young people had to start to change their lifestyles to be able to train for this challenge.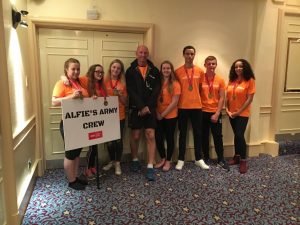 Tricia Jones, Jade Griffith, Chloe Roberts, Gareth "ALFIE" Thomas, Mia Jeffs, Sam Sides, Jordan Jackson a Yasmin Sides
On Friday 29th September they all headed down to Cardiff for the final weekend – the weekend of the half marathon. Saturday morning was a relaxing morning with a look around the capital and a game of crazy golf. Saturday afternoon was time to meet up with Alfie and James in preparation for Sundays half marathon. The young people didn't quite get what they expected. They were drilled off the bus by army drill sergeants as soon as they got there and very quickly made to line up ready for action. Alfie was marched into the centre of the young people while they watched Alfie get an army beasting. He was drilled to run, jog, get down and crawl, jog on the spot, press ups and this went on. By now our young people thought they were next!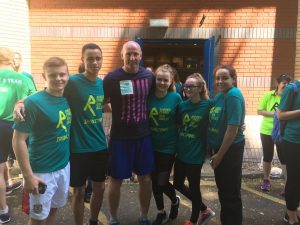 When it was their turn they were surprised, they were put into teams and were coached to do team building activities including a large inflatable assault course. The drill sergeants motivated the young people but were also very supportive, and the young people actually stated that they 'had fun' although they were tired. This day was finished by a pasta party and a motivational speech from Alfie himself, then early to bed in prep for the next day and challenges ahead.
Sunday – the day of the half marathon, a good filling healthy breakfast inside everyone and they were off. They had VIP passes to inside Cardiff Castle were they warmed up and prepared for the task ahead. The atmosphere was fantastic, the young people were going through many emotions but the cheers and support from the public for all Alfie's Army encouraged them all to get ready to go.. This encouragement was apparent all the way along the 13.1 miles, everyone was cheering and shouting out with positivity, and the young people said this and Alfie's support helped them through.
The first young person from Wrexham came through in just over 1 hour and 49 minutes followed by the other 6 young people. The young people had doubts and fears leading up to the run but all 7 completed the challenge and all have the medals to prove it.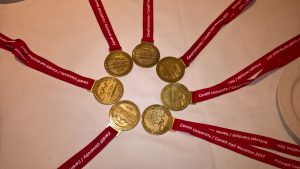 4 charities will also benefit from this challenge, they are: The Gunjur Project, Hope House Hospice, Nightingale House and The Autistic Society: the young people would like to thank everyone who supported these charities.
Some of the young people passed on thankyou messages to be sent to Alfie's Army;
'It was a really good experience. Alfie's Army has 100% given me the motivation to become more active and healthier in my life and I am so grateful for the experience…..'
'Alfie's Army has been a great motivation to get active and I'm grateful for the amazing experience'
'Alfie's army is an experience I am never going to forget !!! I am so grateful for all the help but also the support everyone has given it has motivated me to become healthier'
'Thank you for the opportunity and it's an experience I will never forget'
---
Have your say