Knife crime in Wrexham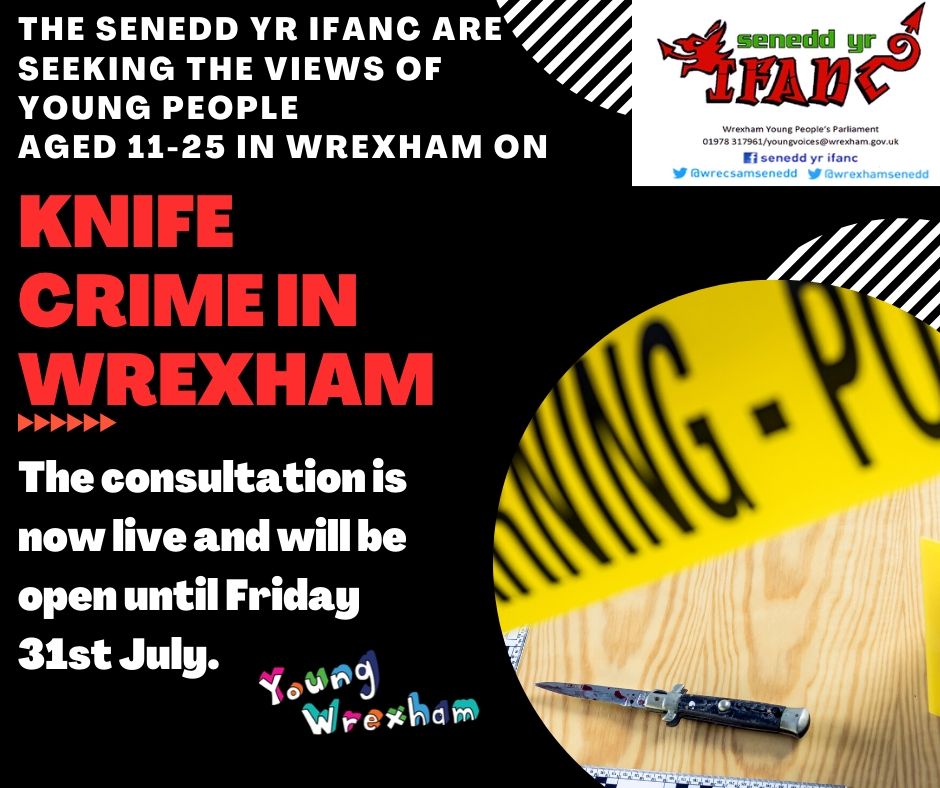 The Senedd yr Ifanc are seeking the views of young people aged 11-25 in Wrexham on knife crime.
In 2019, members of UK Youth Parliament voted 'Put an End to Knife Crime – too many young people's lives are lost to knife crime, the government need to do more to help end the knife crime epidemic' as their top issue for 2020https://www.byc.org.uk/news/2019/uk-youth-parliament-launch-action-against-knife-crime.
Therefore, in order to find out more about the issue of knife crime in Wrexham, the Member and Deputy Member of UK Youth Parliament for Wrexham, with support from the Senedd yr Ifanc, have created a short questionnaire to ask other young people their opinion. This questionnaire will take approx. 10 minutes to complete.
The aim of the questionnaire is to give the Member and Deputy Member of the UK Youth Parliament a clearer understanding of Knife Crime in Wrexham.
This questionnaire is completely anonymous; we would like young people to answer the questions openly and honestly.

Members of Senedd Yr Ifanc
This questionnaire is aimed at young people who live, attend school or work in Wrexham and its surrounding communities.
The Member and Deputy Member of UK Youth Parliament would like to ask you to share the consultation with the young people you work with. We would like to collect views of young people from all across Wrexham.
The consultation is now live and will be open until Friday 31st July.
http://www.yourvoicewrexham.net/survey/1101
Attached you will find a selection of tweets and Facebook post already translated for you to share on your social media outlets. We would appreciate any promotion of this consultation.
Many thanks
Katie and Emilia
Member and Deputy Member of UK Youth Parliament
---
Have your say