Through the kind-heartedness of all our supporters we raised an incredible £12,250 and we were able to take out 5 young people from the Wrexham area to the Gunjur Project Gambia we they could support and work on some needy projects. Here they learned from and developed many life skills, built on their confidence and self-esteem while working to help the Gambian children, young people and families. This was a life changing project that the Young People said they wouldn't forget.
The monies and donations raised by the girls from the Creating Change Project provided so much. It provided 50 Malaria nets for the children in the local compounds (Kajabang), 6 footballs and pumps to the local Greater Tomorrow Football Academy. First Aid supplies, Glitter Bug hand hygiene kit, girly gift packs and female products to the local Girl Guides, resources, stationary,  hats and scarfs for a local school and much more.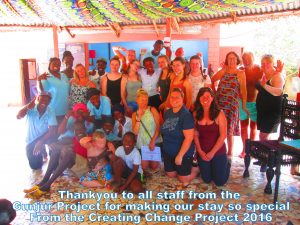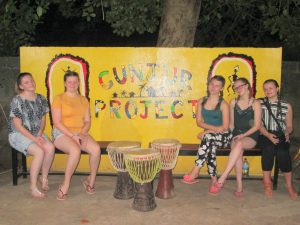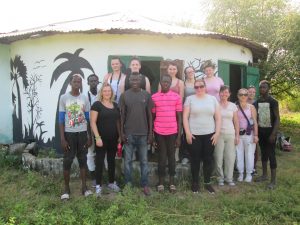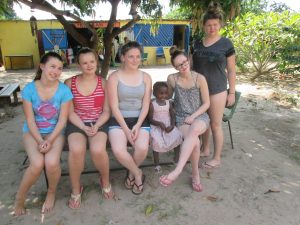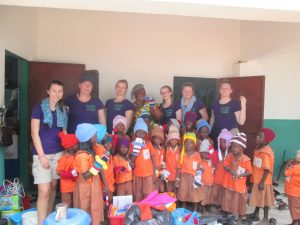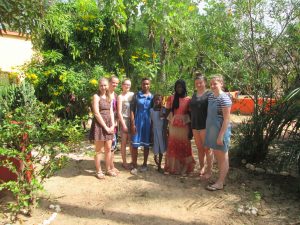 The Creating Change Project also sponsored 5 Gambian people. They funded a staff member: Lamin Saho for 12 months to work at and preserve Bolongfenyo Community Nature Reserve. They were able to support Rohey Darboe aged 6, Nyarra Bojang aged 8 and Maynar Sillah aged 15 with support to get an education all for 2 years; they also supported Mariama Sillah for 1 year to study at collage to become a midwife. This is a much needed profession in Gambia as there is a lot of tragic deaths during child birth due to lack of medical Care.
The biggest project that was achieved was the work in Mariana May school. There were 91 pupils in this school aged from 3 – 11. The Creating Change Project worked for 3 days in extremely hot conditions, and they were able buy paint and resources to paint 2 walls of the school boundary with white wash to brighten the school up, the school gates with a preservative paint and then the young people designed and painted a mural with the alphabet, numbers, height measure and the school's name on.
The young people from the Creating Change Project spent some time in the class rooms and watched how the children were educated, played some games and played bubbles and puppets with the children which had also been donated. These were the lucky children as there are 100's of children not in education in Gambia as their main aim in life is to provide food for their families and education is a luxury. The Creating Change Project was able to give all 91 children a small gift from our donations. The head mistress – Fatuo Jenneh wrote us a letter on behalf of the children telling us how we had made her wish comes true.
The Creating Change young people also learned a lot about the way of life for young people in Gambia. They gave and received some peer education about 'our lives', they learnt Gambian hair braiding, Gambian cooking, Traditional dancing, about education, transport, Djembi drumming, industry, local nature and wildlife, Gambian traditions, Tie Dying, the rural compared to the commercial side of Gambia, traditional clothes, History and much more. This was all thanks to the Gunjur Project who helped us plan our time in Gambia which was a truly life changing experience.
---
Have your say